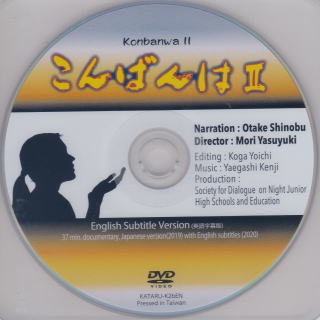 「こんばんはII」(英語字幕版)DVD
 Konbanwa II (with English subtitles)

 お申込方法
 Purchase DVD Konbanwa II (with English subtitles)



---

○価格  DVD一枚1000円(税込)、 郵送料200円(税込、枚数によらず―律)

○申込先 (うけつけ): 「こんばんは II」(英語字幕版)DVD担当(関(せき)美江子(みえこ))




○必要事項
  (1)DVD枚数   (2)送料を含む合計金額
  (3)送り先のご住所 (4)お名前  (5)お電話番号

○お支払い方法
  DVD到着後ご確認の上、同封の振替用紙で送金してください。
  ※払込手数料はご負担ください。

◆発送先については、日本国内に限ります。

--------------------------------------------------------------------------

○Price: \1,000(tax included)   Shipping fee: \200 (per one shipping, tax included)

○
  



○Please write  1. Your name  2. Delivery address
           3. Telephone number  4. Number of DVDs
           5. Total cost (including shipping).

○ Payment by money transfer should be made to our account at Japan Post Bank upon receipt of DVD.
 Payment information will be included in the DVD shipment. Transfer fees are to be paid by customer.

◇ Delivery of the disc is limited in Japan.